Crew Living
Life with Disney Cruise Line can be compact yet comfortable, rewarding and fun. Most crew members onboard or on the island share a cabin with one or more crew members.
Crew Cabins
Each cabin has limited space and is equipped with:
Show More
A bed for each crew member
A bathroom with a shower, sink and toilet
A small closet/storage space for personal belongings
A small lockable area to store valuables
A desk
A TV/DVD player (U.S. or NTSC compatible)
A mini-refrigerator
A telephone
Officers may share a cabin with another Officer, or may have their own cabin but share a bathroom with another Officer. Depending on the position and privilege level, some Officers have a single cabin and bathroom.
Smoking is not permitted within crew and Officer Cabins. Each ship also has designated crew smoking locations.
Most crew members and Officers move into a crew cabin during their first cruise. Your first cabin can be what is called a 'training cabin' (a temporary cabin assigned to a crew member who is in training), or may be the cabin in which you will live for a select period of time. This will not be determined until after you embark the ship. Please realize crew members are occasionally required to change cabins periodically throughout their contract based on operational need.
Sharing a cabin with fellow crew might be part of your DCL onboard experience. Watch to get a glimpse of what to expect!
Crew Spaces
Crew Mess

Crew Bar

Crew Gym

In addition to your cabin, a variety of "crew only" spaces are available for your use, relaxation and enjoyment when you are not working.

Show More

These include:

Crew laundry areas
Internet café
Crew Gym; accessible 24 hours a day
Crew Store
Crew dining area (Crew Mess)
Crew bar
Recreation/relaxation room with games and books
Outdoor deck
Crew pool (Disney Magic/Disney Wonder only)
Private beach area on Castaway Cay
Crew Store
The Crew Store is a crew-exclusive location, open at select times. Crew members can purchase items from the store by charging them to their onboard account.
Show More
The shipboard crew store offers items such as:
Select sundries and toiletry items including shampoo, conditioner, shower gel, soap, toothpaste, dental floss, mouthwash, deodorant, sanitary products, make-up, perfume/cologne, and hairspray
Laundry detergent
Over-the-counter cold medicine
Solid colored socks, hosiery and shoe polish
White t-shirts
A wide variety of canned or bottled beverages such as energy drinks, coffee and espresso, soda, fruit juices, water, beer and wine
Insulated cups with secure lids
Small selection of cigarettes
Corkscrews
Selection of packaged snacks
Small selection of sunglasses, watches, clothing, and Disney collectibles
ID/Key holders and lanyards
Officer Spaces
In addition to having access to all crew spaces onboard, there are some dedicated spaces exclusively for Officers. These include:
Show More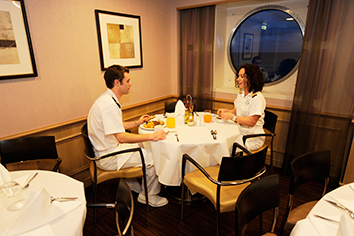 Officer lounge/bar
Officer dining area (Officer Mess)
Depending on your position, you may also have privileges to spend time in select guest areas during your time off
For crew residing on board a ship… Officers may share a cabin with another Officer, or may have their own cabin but share a bathroom with another Officer. Depending on the position and privilege level, some Officers have a single cabin and bathroom.
Communication
There are a few important things you must know about communicating with friends and family during your contract.
Shipboard
Phone Calls
Below are some helpful tips about phone communication:
show more
"Ocean Phone" cards can be purchased onboard with cash to make calling home more economical from the phone in your crew cabin. Crew members may call directly from their cabins at a reduced rate; however, calls from the ship are via satellite and are significantly more expensive than calls from land, so please plan accordingly.
There are multiple phones located in common crew areas onboard each ship and are available for use in select home ports of call.
Crew members can use their own personal mobile/cell phone onboard as well. Please be aware that usage rates and international roaming rates will vary based on the ship's location. Be sure to contact your cell phone provider to learn these rates before you embark. Disney Cruise Line recommends keeping wireless devices turned off while the ship is sailing, if you want to avoid costs associated with data downloads.
For crew members who embark with a personal "unlocked" cell phone, a special SIM card can be purchased onboard which allows calls to be made while the ship is at sea.
Depending on the ship you may be able to purchase international calling cards to be used ashore in various ports of call; you will have access to land phones that accept credit cards, international calling cards, and collect calls; in other ports (excluding Castaway Cay)
Internet
Internet access is available 24 hours a day on each Disney Cruise Line ship, either by using one of the computers in the crew Internet Café and/or via your own personal laptop for a reduced fee.
show more
Wireless access is available in various crew (and guest) areas, as well as most crew cabins. The price of service packages is based on the amount of data used, not on length of time online.
Internet cafés are also available in several ports of call at a reduced cost, and some locations offer free WIFI.
Mail
You are able to send and receive mail directly from the ship.
show more
Once onboard, please check with the Crew Office for the ship's mailing address. Mailing labels and stamps are available from the Crew Office.