Castaway Cay
As a future Castaway Cay crew member, our goal is to help you adapt to your new environment and home once you arrive on the island. The below information is high level and is intended to complement the general crew information.
Important Documents
Important documents that you must have with you when traveling:
Passport
Visa, if applicable
Signed Contract
Original safety certificates (Personal Survival Techniques, Personal Safety and Social Responsibilities, Crowd Management)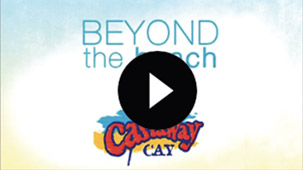 Life on Castaway Cay – Disney Cruise Line Jobs

Crew Spaces

Crew Cabins
Most Crew Members share a cabin and this can be with one or more Crew Members.
Show More
Each crew cabin has limited space and is equipped with:
A bed for each Crew Member
A bathroom with a shower, sink and toilet
A small closet/storage space for personal belongings
A small lockable area to store valuables
A desk
A TV/DVD player
"Crew Only" Areas
In addition to your cabin, a variety of "Crew only" spaces are available for your use, relaxation and enjoyment when you are not working. These include:
Show More
Crew laundry areas (use of washers, dryers, irons and ironing boards is free of charge)
Computer room (internet is free of charge for Island Crew only)
Crew gym featuring state-of-the-art exercise equipment; accessible 24 hours a day
Crew store (offering a small selection of items such as laundry detergent, toothpaste, bottled water, etc. which can be purchased at Bahamian prices; DVD rentals)
Crew cafeteria
Crew bar and recreation/relaxation room with games, books, pool tables, etc.
Private Crew beach area for ship and Island Crew
Clothing
Personal Clothing
Comfortable, casual clothing such as shorts, jeans, athletic pants, and t-shirts of good taste are acceptable throughout the year.
Show More
You will be living in the Bahamas where the climate is tropical throughout the year. It can be rather humid on most days with showers during the rainy season.
Despite the warm temperatures, long sleeve options and/or pants are helpful to prevent bug bites and/or sunburn. Pants and long sleeve shirts are recommended for winter months. A sweater, wind breaker and/or light jacket for cooler mornings and evenings is also recommended. Do not forget that you will likely be wearing your crew costume more frequently, so pack conservatively.
In addition to casual clothing, we suggest you bring at least one nice outfit to wear for special occasions or crew events. Sunglasses, suntan lotion and/or bug spray are also strongly recommended.
Shoes
Arrive prepared! You must provide your own shoes to complete your costume/uniform. Prior to purchasing your shoes, review the shoe flyer and Disney Cruise Line Look Book. These resources provide photographs of what is considered an appropriate shoe choice and meet the Disney Look requirements.
Show More
It is necessary to purchase your shoes before you arrive on the island; otherwise, you will not be ready to start your training. Please plan accordingly.
Important planning note for select positions:
Island Maintenance Crew, Culinary Staff and Stewards will receive one complimentary pair of safety shoes.
To see what shoes you must have, visit the Shoe section on the Disney Look page.
For a complete look into the Disney Look standards, look at the Disney Look Book
Disney Look
Book
Crew Pay and Banking
You will be paid every other week based on a payroll calendar and will be paid in U.S. dollars or Bahamian dollars (depending on position). Crew members receive their pay via a "Pay Card" or via direct deposit into a U.S. bank account. Once you embark the ship and/or arrive on the island, you will activate your Pay Card and learn more about how your Pay Card works and/or have the opportunity to set up direct deposit.
For the most part, the island also uses a cashless system for charging purchases to your crew account. The exception to this is to purchase a phone card in which cash is required.
Crew Members have a few choices in regards to how to conduct personal banking. With your Pay Card, you will be able to:
Withdraw cash from any ATM that displays the Visa logo, including onboard ATMs located in crew areas onboard the ships; NOTE: an ATM is not available on the island.
Use your card to make purchases anywhere Visa is accepted: in stores and online (Credit requires a signature OR Debit requires a 4-digit PIN)
Do free over-the-counter withdrawals or cash advances at ANY bank that accepts Visa in the U.S. and internationally
Transfer or wire money from your payroll card account to another financial account (US or internationally) for a small fee
Elect to have a second Pay Card or Companion Card issued; this card will be tied to your Pay Card account and can be used by a spouse, domestic partner, etc.
All crew members are responsible for paying their own taxes, and must comply with all laws of their country of residence, including without limitation, those relating to income taxes, social security and/or national insurance taxes and fees. U.S. Federal tax withholding is required for all U.S. citizens, residents and U.S. passport holders. If you have questions regarding taxes, please consult a tax expert within your country. Due to the complexity of tax requirements by each country, Disney Cruise Line is unable to provide tax assistance or advice.
Additional Information
Laundry
You will have access to a crew laundry room located in a crew-only area on the island. This allows you to keep your personal clothing laundered and neatly pressed. The crew laundry room contains washers, dryers, irons, and ironing boards for crew use and is accessible 24-hours a day. For safety reasons, the provided irons may be used in the crew laundry room only; personal irons cannot be brought to the island. Use of the crew (washer and dryer) machines is free of charge. Laundry soap is provided free of charge.
Toiletries
We suggest bringing enough toiletries (shampoo, deodorant, toothbrush, hair spray, etc.) to last for at least your first few weeks on the island. Prices are higher for toiletries and other personal items may be different than what you are used to.
Room Linens
Bed linens, a bed cover, towels, and a small number of coat/clothes hangers are provided by Disney Cruise Line. You are allowed to bring personal linens and towels if you prefer. The laundering of your personal linens will be your responsibility.
Decorating
You will be living in your cabin for several months at a time and we want you to feel at home. Posters, small decorative items, personal mementos, photographs, a calendar, books and other personal items can be brought to the island. Tape and/or nails, however, cannot be used to hang items. For safety reasons, candles and incense burners are not allowed. Remember that your cabin has limited space and your cabin mate will also bring items.
Electronics - Voltage
Voltage is 110 and 220 volts in crew cabins. Appliances such as hair dryers and razors from most parts of the world will work. Due to space limitations, a small radio or portable/personal audio player is recommended. We recommend you bring a watch and a battery-powered alarm clock. All electronics must be checked and cleared for use by the Island Manager for safety reasons. Clothing irons and cooking/baking equipment are not permitted in your cabin for safety reasons.
Alcohol
You may not bring liquor, beer and/or wine on the island. You may purchase alcohol in the crew store if you are 21 years or older. Failure to comply could result in disciplinary action, not excluding termination.
Perishable Foods
Due to safety and sanitation guidelines, perishable foods (items that may spoil) may not be brought on the island. Failure to comply could result in disciplinary action, not excluding termination.
Medicine and Prescriptions
Prescriptions are only covered by DCL if they are associated with an injury or illness and prescribed by the doctor onboard the ship. If you are currently taking medicine as prescribed by your own personal doctor at home, you may want to bring enough prescriptions to last for the duration of your contract. Once you begin work, you will be required to register all prescriptions and/or medicines with the Island Nurse.
Phones
On Castaway Cay, there are no pay phones available. Island crew members will need to bring their own cell phone to make calls.
Internet
Internet access is available 24 hours a day on the island. This service is free to all island crew. Service is subject to network availability. Computers are available for crew use, and there are limited wireless hot spots in select island areas.
Mail
Once on Castaway Cay, please check with the Human Resources Manager for the island's mailing process. You are able to send and receive mail from Castaway Cay via a ship or the local Bahamian post office. Bahamian stamps are available at the local post office.